The new and improved nVue is the best Inscopix miniscope imaging system for multicolor applications. Book a meeting with one of our sales consultants and learn more about the types of circuit neuroscience questions scientists can explore using dual color imaging with the nVue system.
The new nVue has significantly improved our detection of transgenic GCaMP expression, known to have a lower SNR relative to viral GCaMP, and has proved essential for us to simultaneously monitor the activity of two distinct hippocampal cell types during a spatial navigation task.
Dr. Liset De La Prida, Instituto Cajal, Madrid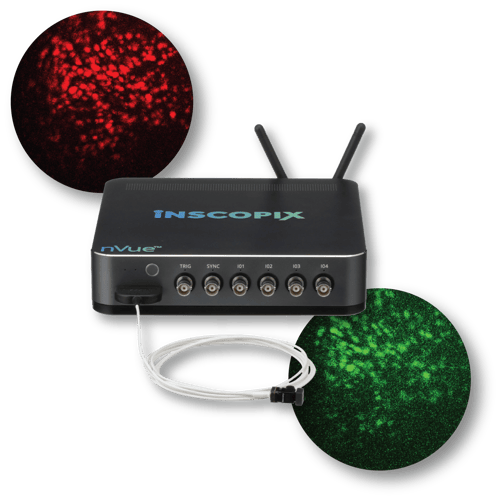 KEY BENEFITS
Image two distinct cellular populations

from shallow or deep brain regions simultaneously with single-cell resolution

Explore the relationship of up to two

brain

signals during naturalistic behavior

Record multi-channel data using nVue's expanded data storage, facilitating longitudinal data acquisition over months
Expand your neural insights with nVue.

Book a meeting to learn more.